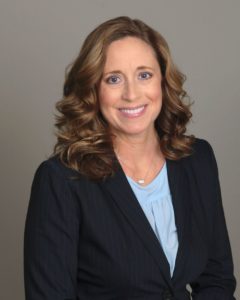 Jill earned her Bachelor of Science Degree from Valparaiso University in 1992. She then attended Valparaiso University School of Law where she was a member of the Moot Court Honor Society Executive Board, and participated as a team member in national moot court competitions across the county.
Jill began as a law clerk with her now-partner's law firm during her first year of law school in 1993. After graduating cum laude from Valparaiso University School of Law in 1995, she passed the Indiana and Illinois bar exams that same year.
Jill has practiced in the field of family law for most of her career. She successfully completed the rigorous application and testing process to become one of the first Certified Family Law Specialists, as certified by the Family Law Certification Board, in the State of Indiana in 2002. She remains one of only a handful of certified specialists in Lake County. Jill is also a Registered Family Law Mediator and a trained Parenting Time Coordinator, providing services in high conflict matters. With extensive experience in dissolution of marriage, paternity, child custody, child support, adoption, name changes and appeals, Jill enjoys affecting the lives of her clients by making difficult times less stressful and easier to understand.
Jill is a member of the Lake County Bar Association, the Indiana State Bar Association and the Women Lawyer's Association, Inc. She served on the Board of Directors for the Lake County Bar Association from 2002 to 2004, and served as Recording Secretary of the Women Lawyers Association, Inc. for several years. Jill has been a presenter of continuing legal education seminars in the area of family law and has authored successful appeals in both the Indiana Court of Appeals and the Indiana Supreme Court.
Jill is actively involved in the Indiana Chapter of the Association of Family and Conciliatory Courts (AFCC), currently serving on the Board of Directors, as Treasurer of the organization, and on the Programming Committee. This involvement has solidified her passion for multi-disciplinary work in which legal professionals, the judiciary and mental health professionals can work together to educate one another and assist high-conflict families.
Jill has volunteered as a speaker for Indiana State Bar Association programs which seek to educate children about the law and civics. She has presented on behalf of the "Why Lincoln Was a Lawyer?" community outreach program and the Indiana Kids' Election Speaker's Bureau, as well as serving as a judge for the We The People program.